I have put together a collection of articles that should be extremely concerning to everyone. We all need to spread the word on how this poison will affect every living thing on the planet and the few generations left to come.
The people whom we have entrusted to protect us have failed to do their duty and should be held accountable for this failure.
Maybe you've heard it in the news recently – glyphosate has been in a number of legal cases worldwide and there's no sign of this trend slowing down. This is good news, since glyphosate (also known as Roundup) is herbicide that has infiltrated every aspect of our water and food systems and is wreaking havoc on human health.
The producer of glyphosate – the corporate giant Monsanto – has been in denial of the harmful effects of their key product on human health for decades. There was even a point in time where marketing taglines used for Roundup included misleading and downright false claims, including that is was:
Biodegradable
Safer than table salt
Practically non-toxic
Stayed where you put it
Fortunately, in 1996 the New York attorney general sued Monsanto and forced them to stop using such dangerous claims.
But this isn't enough.
More and more research is indicating that glyphosate is carcinogenic, an endocrine disruptor, harmful to the gut microbiome, and that it damages DNA in human embryonic, placental, and umbilical cord cells. Glyphosate levels are also associated with autism and attention-deficit hyperactivity disorder (ADHD). In animal studies, glyphosate has been linked to birth defects and reproductive issues. This growing body of research is seriously concerning.
In 2015, the International Agency for Research on Cancer classified glyphosate as "probably carcinogenic to humans." Recently, California has been trying to label Roundup as carcinogenic, but has been blocked by a Judge.
Currently, there is an open case where a man from California is suing Monsanto for causing his cancer. Not only will DeWayne Johnson be the first man to take Monsanto to court for causing his cancer, the Judge recently issued an game-changing order to the jurors. This order states that they should not only consider if Monsanto's Roundup caused Mr. Johnson's cancer, but if Monsanto has been hiding the risks of its product.
This is a case worth paying attention to because it could shift the winds against Monsanto.
Glyphosate is Now Everywhere
One of the major reasons glyphosate has become such a problem is that it is water soluble. In nature, most toxins are fat soluble – this is arguably nature's way of protecting us. Fat soluble substances need fat to move, and there is far less fat in the world than water. On the other hand, water soluble substances move through anything with water:
Rivers
Groundwater
Drinking water
Oceans
Rain
Fog
Water in your body
Water is everywhere – and with it comes water soluble glyphosate. Glyphosate is now found in all types of water sources. Yes, now you can even breathe in Roundup.
In a recent study, glyphosate was found in tea products and urine of those sampled – levels were especially high those who recently consumed tea. Of the different food and beverage products examined, this study found glyphosate to be highest in tea, coffee powder, and honey.
5 Ways to Reduce Glyphosate Exposure…….
A San Francisco Jury awarded $289-million in damages to a former school groundskeeper, Dewayne Johnson, who said Monsanto's Roundup weedkiller gave him terminal cancer. Mr. Johnson applied the pesticide up to 30 times per year, and now suffers from non-Hodgkins lymphoma. As much as 80% of his body is covered with lesions. Monsanto says it will appeal the verdict. Monsanto is a subsidiary of Germany's Bayer AG, which bought the agrochemical company in June for $66-billion.
Johnson's case was the first to be heard, with 2,000 similar cases pending in Missouri, Delaware, and California courts. There are hundreds of more cases waiting to be heard in federal court pending a ruling to determine if there is sufficient evidence for a jury to hear the cases.
Oct 23, 2018
On Monday, more Monsanto dominos fell when San Francisco Superior Court Judge Suzanne Bolanos denied Big Ag/Pharma giant Monsanto's request for a new trial and instead upheld the jury's verdict that found their weed killer caused a groundskeeper's cancer. (She also slashed the amount of money to be paid from $289 million to $78 million…unless DeWayne Johnson wants to demand a new trial.)
But that isn't the only good news! Bayer shares dropped as well:
"Shares of chemical giant Bayer, the parent of Monsanto, dropped 11 percent on Tuesday in European trading, as investors had been hoping the judge would order a new trial or reduce the award by an even greater amount, according to The Wall Street Journal.
Documents suggest Monsanto knew the dangers, colluded with regulators
Internal emails between federal regulators and Monsanto that have been publicly released as part of litigation suggest the firm authored its own research on glyphosate and then credited it to academics. It also showed how a senior EPA official tried to suppress a federal glyphosate study planned by the U.S. Department of Health and Human Services.
Hardeman's lawyers said that Monsanto took advantage of "cozy" relationships with regulators like the EPA, who has not required the weed killer to bear a cancer risk warning.
In August, jurors in a California state court trial awarded a school groundskeeper $289 million after he developed terminal non-Hodgkin's lymphoma. Although the award was later reduced, the company's culpability stands; the judge ruled that Monsanto intentionally withheld information about the dangers of its weed killers Ranger Pro and Roundup and failed to inform customers that it could cause cancer. (Related: Glyphosate is the next Big Tobacco … Thousands of lawsuits could bankrupt Monsanto / Bayer.)
Monsanto and Bayer are now facing more than 9,000 lawsuits of a similar nature across the country, and that number could well climb as more people are diagnosed with illnesses related to exposure to the chemical, which has been labeled by the World Health Organization's International Agency for Research on Cancer as being "probably carcinogenic to humans." Some countries have already banned the use of the product, while others plan to phase it out…….
A California jury ruled Monday that Monsanto must pay a record $2 billion in damages to a couple that was diagnosed with cancer after using the company's weedkiller Roundup.
"We were finally allowed to show a jury the mountain of evidence showing Monsanto's manipulation of science, the media, and regulatory agencies to forward their own agenda despite Roundup's severe harm to the animal kingdom and humankind," said Michael Miller, an attorney for Alva and Alberta Pilliod.
The jury ruled that Monsanto—which was acquired by the German pharmaceutical giant Bayer last year—is liable for the Pilliods' non-Hodgkin's lymphoma (NHL), the third such ruling in less than a year.
"We've been fighting cancer for nine years. It was caused by Roundup. We can't do the things we used to do and we really resent Monsanto for that," Alberta Pilliod said at a press conference following the verdict…….
August 13th 18
03/19/2019 / By Tracey Watson
Everybody loves a good David and Goliath story. Few things provide as much satisfaction as watching the little guy take on a gigantic, evil corporation and win. Of course, watching a little "David" take out not just one but two evil giants with one stone is even more satisfying.
That is exactly what happened when a California jury found that exposure to Monsanto's glyphosate-based Roundup weed killer product had caused groundskeeper Dewayne Johnson to develop an aggressive form of non-Hodgkin's lymphoma. The jury also found that Monsanto was fully aware of the product's dangers but did all it could to hide the risks from the public. The judgement demanded that punitive damages in the amount of $289.2 million be paid to Mr. Johnson as compensation.
Of course, Monsanto's legal team immediately appealed the verdict, but San Francisco Superior Court Judge Suzanne Ramos Bolanos upheld the decision, though she did reduce the amount payable to $78.5 million.
And just like that not one, but two Goliaths were struck down, because just months before the verdict was delivered, German chemical giant Bayer entered into a merger with Monsanto at the eye-watering cost of $66 billion.
Though the $78.5 million settlement might seem like chump change to these gigantic corporations, this court case represents just the tip of the iceberg, because another 8,700 plaintiffs who claim their health was damaged by Roundup are waiting in the wings with a massive class action lawsuit.
Bayer stocks plummet 10 percent after Johnson verdict
Bayer's stocks plunged 10 percent within three days of the jury's verdict in the Dewayne Johnson trial, after experts predicted that future lawsuits could cost Bayer/Monsanto at least $800 billion more.
Roundup Lawsuits
Roundup lawsuits claim the weed killer caused several types of cancer like non-Hodgkin's lymphoma, b-cell lymphoma, leukemia, and others. Monsanto faces 18,400 Roundup lawsuits, including one in which the plaintiff received a jury award of $78.5 million in compensatory and punitive damages.
In one recent Monsanto lawsuit, unsealed documents and emails emerged suggesting Monsanto had ghostwritten several scientific studies to help ensure that glyphosate was found to be safe to use in the EPA's evaluation of the widely used herbicide, a claim the company publicly denies. Roundup cancer lawyers claim that company executives worked with a former EPA employee to refute claims that glyphosate was dangerous and tried to squash an investigation of the pesticide. Monsanto allegedly received notice of the herbicide's evaluation months before it was made public, allowing them to prepare for a public relations attack against studies supporting a cancer link.
Roundup Settlements and Verdicts
Monsanto faces thousands of lawsuits as a result of its Roundup cancer-causing ingredients. A Roundup class action lawsuit was filed in Los Angeles Superior Court against Monsanto, claiming its advertising falsely stated that Roundup products were safe to use. The class action suit also claims the company deliberately falsified documents and concealed information that glyphosate is dangerous to humans and environmental health……
Monsanto is perhaps the world's most hated corporation — a title many agree they've certainly earned. Over the course of the company's many years of existence, Monsanto has been involved in many controversies.
Their GMO seeds and matching herbicides, and their total destruction of the farming industry from what it once was, are some of the more current and common reasons why the Monsanto name leaves a bad taste, but the company's history is rife with plenty more fodder for the distaste.  The company has been heavily scrutinized over its many decades of existence, but as luck would have it, the criticism and flat-out hatred of Monsanto come with good reason.
MEET THE $2 BILLION THORN IN MONSANTO'S SIDE – YouTube
With the acquisition of Monsanto by Bayer, a German corporation linked to the Third Reich and the chemical murder of Jews during the Holocaust, the U.S. media has now turned against Monsanto.
The $2 billion jury award against Monsanto that was just handed down by a California jury has been widely reported by the very same media that, for years, blacklisted any criticism of Monsanto, GMOs or glyphosate herbicide.
They did that because Monsanto ran a "black ops" division that bribed and threatened journalists across the country while keeping a "hit list" of which journalists to pay off or threaten with violence. Bayer has now become aware of this "black ops" division of Monsanto and has publicly apologized for its operation. In a public apology message posted on its website, Bayer also says it has shut down the operation and cut ties with the black ops service providers, which we know included actual corporate-funded "death squads" that targeted journalists, lawmakers and regulators. (Bayer does not admit the existence of death squads and may not have known about their existence when it acquired Monsanto, as it's almost certain that Monsanto principals committed due diligence fraud and misrepresentation during Bayer's acquisition investigations.)
With the black ops division shut down, U.S. journalists are no longer threatened with being killed by Monsanto for running news that's critical of the corporation. This is one reason why negative news about the Roundup / glyphosate court cases is receiving so much coverage now. (Read MonsantoMafia.com for more news about the criminal activities of Monsanto that were carried out before the Bayer acquisition.)
"Snowball effect" of media coverage will accelerate the wave of lawsuits against Bayer…….
EPA Ignored Scientific Research Showing Monsanto's Glyphosate Causes Cancer
An analysis from the peer-reviewed scientific journal Environmental Sciences Europe 1 shows the EPA ignored many peer-reviewed independent studies that link glyphosate to cancer in humans and instead, used research funded by Monsanto and other agrochemical companies to support the agency's position that glyphosate is not carcinogenic.
What is Roundup?
Roundup is the most widely used herbicide in the world. Its key ingredient, glyphosate, is classified as a Group 2A carcinogen by the World Health Organization's International Agency for Research on Cancer
Glyphosate was first registered for use in the United States in 1974. Since Roundup's introduction that same year, over 9 million tons of the weed killer have been sprayed on crops and landscaping, in public areas such as schools and parks, as well as for home use. Global use of glyphosate has grown almost 15-fold since the 1996 introduction of Roundup Ready genetically engineered glyphosate-tolerant crops.2
Over 11,000 Lawsuits filed
To date, over 11,000 people have filed lawsuits against Monsanto, which was acquired by Bayer AG in 2018. Plaintiffs claim exposure to Roundup's glyphosate was a significant factor in causing the to develop cancer, including non-Hodgkin lymphoma. People injured include farm workers, landscapers, school groundskeepers, and home gardeners. Exposure can be through inhalation or skin contact.
Researchers See Glyphosate Health Effects Across Generations
Researchers at Washington State University have found health problems in the second and third generation of rats who were exposed to glyphosate. In the first study of its kind, researchers observed descendants of rats exposed to glyphosate developed prostate, kidney and ovarian diseases, obesity, and birth abnormalities……..
Miniscule amounts of RoundUp in the parts per trillion are shown to increase the growth of breast cancer cells. Regardless of FDA limits, the reality is that there is no safe level of glyphosate consumption.
One study out of Norway looking at Roundup Ready soybean crops confirmed the presence of glyphosate inside the beans themselves, and even Monsanto itself admits that some glyphosate remains on and in food crops like canola, cotton, and corn that are heavily sprayed with it. This means that animals and people are literally eating glyphosate in unknown amounts on a regular basis.
Leading Researchers Agree on the Dangers of Glyphosate
Over 100 peer reviewed papers have been published by Don Huber, Emeritus Professor at Purdue University and senior scientist on USDA's National Plant Disease Recovery System, and other scientists on the detrimental effects of glyphosate. Glyphosate increases disease in plants (as well as animals), prompting Huber to write to the Secretary of Agriculture. Respected scientific studies show that there is a strong correlation between Glyphosate and Glyphosate formulations and serious health and environmental hazards, including disruption of hormonal systems and beneficial gut bacteria, damage to DNA, developmental and reproductive toxicity, birth defects, cancer and neurotoxicity. <6>
How Does Glyphosate Damage the Human Body?…….
Lobbyist Claims Monsanto's Roundup Is Safe To Drink, Freaks Out When Offered A Glass – YouTube
When the U.S. Environmental Protection Agency (EPA) announced a designation of "safe and effective" with regards to Monsanto's infamously controversial Roundup (glyphosate-based) herbicide, in direct contradiction to opposing findings by the International Agency for Research on Cancer (IARC) that identified glyphosate as a "probable human carcinogen," the pro-chemical lobby quickly declared itself the victor in this heated and ongoing debate. But what the public was never told is that the EPA relied largely on industry-funded pseudoscience in giving its stamp of approval for glyphosate, while IARC carefully considered legitimate, peer-reviewed scientific studies before ultimately concluding and declaring that Roundup more than likely causes cancer.
As reported by Colin Todhunter of Off-Guardian.org (and republished by CounterPunch.org), these disparate findings between the EPA and IARC have continued to fuel an ongoing battle by independent activists against Big Agrochemical, particularly in Europe where Dr. Charles M. Benbrook published a study baring the full truth about the corruption within the EPA that led the industry-compromised agency to make a patently false declaration about the alleged safety and effectiveness of Roundup and glyphosate.
As revealed by Dr. Benbrook in his paper, the EPA's consortium of "evidence" proving the safety and effectiveness of glyphosate was mostly derived from the very corporations that profit from its sale. IARC, on the other hand, looked at real published science that wasn't tainted by the chemical industry, and that simply evaluated glyphosate from a neutral perspective.
"EPA and IARC reached diametrically opposed conclusions on glyphosate genotoxicity for three primary reasons," Dr. Benbrook explains in his paper, these three reasons, verbatim, being:…..
Pesticide chemicals saturate U.S. fresh produce, new tests reveal… 70% of fruits and veggies are contaminated with toxic chemicals
Despite the false propaganda of pesticide and herbicide producers who claim agricultural chemicals disappear after being sprayed on crops, a new research project from the Environmental Working Group has found that 70% of U.S. fresh produce is contaminated with pesticide chemicals.
All pesticide chemicals are toxic to life. Otherwise, they wouldn't kill the living organisms that threaten crops. There is no such thing as a "non-toxic" synthetic pesticide.
The EWG's research — released as the 2019 Shopper's Guide to Pesticides in Produce — found that 92% of grocery store kale contains two or more pesticides. From the EWG's announcement:
"We were surprised kale had so many pesticides on it, but the test results were unequivocal," said EWG Toxicologist Alexis Temkin, Ph.D. "Fruits and vegetables are an important part of everyone's diet, and when it comes to some conventionally grown produce items, such as kale, choosing organic may be a better option."
Notably, the EWG's report relied on USDA data which may be skewed in favor of pesticide producers, meaning the real severity of the pesticide problem across U.S. produce may be far worse than what is being reported. Here at Natural News, we have our own in-house mass spec laboratory for testing foods for pesticides and herbicides (see below for details).
Even if you take the USDA data as accurate, it means Americans are eating toxic, cancer-causing poisons at nearly every meal while food producers are profiting from the sale of toxic products that, much like smoking cigarettes, causes cancer and death…..
Monsanto Glyphosate Medical Implications – YouTube
Seems to me the court cases above say it all.
"Money makes the world go round and people/science can be bought"
EPA attacks California decision to require warning label
The EPA's denial of experimental findings linking glyphosate to cancer is irresponsible in the extreme.
As the science journalist Michael Balter pointed out, "The irony of the EPA's attack on California's determination that glyphosate is a probable carcinogen is that many of the agency's own research scientists and members of its external peer review board on the herbicide also think there is evidence for that conclusion."
—
US eliminates cancer warning labels from the controversial glyphosate weed killer
MercoPress, August 10 2019
https://en.mercopress.com/2019/08/10/us-eliminates-cancer-warning-labels-from-the-controversial-glyphosate-weed-killer
US Environmental Protection Agency has said it will no longer approve warning labels that claim the controversial herbicide glyphosate causes cancer, calling the statement "false and misleading."
The ruling, is a boost to US agriculture giant Monsanto and its German parent company Bayer, which has been battered by a wave of lawsuits over its flagship weed killer sold under the trade name Roundup.
California decided in 2017 that the pesticides must carry labeling to reflect the World Health Organization's International Agency for Research on Cancer finding two years earlier that is was "probably carcinogenic."
But in a letter to businesses, the EPA cited its own evaluation from 2017 that it said contained a more extensive dataset.
"It is irresponsible to require labels on products that are inaccurate when EPA knows the product does not pose a cancer risk. We will not allow California's flawed program to dictate federal policy," said EPA Administrator Andrew Wheeler in a statement…
Damage Control
Monsanto, the agrochemical company that's attained notoriety for its agricultural pesticides and genetically modified organisms, reportedly worked overtime to discredit investigative journalists criticizing the company — and even paid the search giant Google to suppress the findings.
Carey Gillam, a journalist with Reuters, was reporting on the health effects of Monsanto's products a few years back. As part of a massive damage-control campaign, the company worked to discredit her work as much as possible, according to an investigation by The Guardian. Perhaps most troubling: the company reportedly paid Google to promote search results that questioned Gillam's findings — a disturbing look into how readily the flow of online information can be manipulated.
Coordinated Effort
As Gillam prepared to publish her 2017 book, "Whitewash: The Story of a Weed Killer, Cancer, and the Corruption of Science," Monsanto went into overdrive, The Guardian reports. The company assembled a spreadsheet of 23 specific steps it would take to downplay Gillam's key finding while promoting content claiming its chemicals were actually safe.
The spreadsheet shows how Monsanto planned to launch a new website full of their talking points and pay to make sure it popped up when people googled Gillam's name.
"I've always known that Monsanto didn't like my work… and worked to pressure editors and silence me," Gillam told the Guardian. "But I never imagined a multi-billion dollar company would actually spend so much time and energy and personnel on me. It's astonishing."
READ MORE: Revealed: how Monsanto's 'intelligence center' targeted journalists and activists [The Guardian]
Monsanto: The Company that Owns the World's Food Supply – YouTube
If GMO's are not bad for you, why are they so opposed to labeling it?
Bill Maher Talks Monsanto, Genetically Modified Food (GMOs) – HD – YouTube
FDA Found Glyphosate Weedkiller in All Foods Tested, Monsanto Prepares for Trial in June
Internal emails from the FDA show that their chemist, Richard Thompson, found glyphosate weed killer, a "probable carcinogen", in every food sample that he tested, except broccoli. Separately, another FDA chemist, Narong Chamkasem, found that corn contained 6.5 ppm glyphosate, while the legal limit is 5 ppm.  Instead of reporting this to the EPA, an FDA supervisor made an excuse that it was not an "official sample."  A trial is set for June 18 in San Francisco pitting more than 300 farmers, landscapers and gardeners against Monsanto, the maker of Roundup, claiming that exposure to glyphosate in the product caused non-Hodgkin lymphoma.
US government scientists have detected a weedkiller linked to cancer in an array of commonly consumed foods, emails obtained through a freedom of information request show.
The Food and Drug Administration (FDA) has been testing food samples for residues of glyphosate, the active ingredient in hundreds of widely used herbicide products, for two years, but has not yet released any official results.
But the internal documents obtained by the Guardian show the FDA has had trouble finding any food that does not carry traces of the pesticide.
Glyphosate residues have been found in tap water, orange juice, children's urine, breast milk, chips, snacks, beer, wine, cereals, eggs, oatmeal, wheat products, and most conventional foods tested. It's everywhere, in brief.
A new independent study shows that those with highest exposure to glyphosate have a 41% increased risk of developing non-Hodgkin lymphoma (NHL) cancer. A meta-analysis of six studies containing nearly 65,000 participants looked at links between glyphosate-based herbicides and immune-suppression, endocrine disruption and genetic alterations. The authors found "the same key finding: exposure to GBHs (glyphosate-based herbicides) are associated with an increased risk of NHL (Non-Hodgkin's Lymphoma)." Further, they stated that glyphosate "alters the gut microbiome," and that that could "impact the immune system, promote chronic inflammation, and contribute to the susceptibility of invading pathogens." Glyphosate also "may act as an endocrine disrupting chemical because it has been found recently to alter sex hormone production" in both male and female rats.
In a long-term animal study by French scientists under Gilles Eric Seralini, Michael Antoniou and associates, it was demonstrated that even ultra-low levels of glyphosate herbicides cause non-alcoholic liver disease. The levels the rats were exposed to, per kg of body weight, were far lower than what is allowed in our food supply. According to the Mayo Clinic, today, after four decades or more pervasive use of glyphosate pesticides, 100 million, or 1 out of 3 Americans now have liver disease. These diagnoses are in some as young as 8 years old.
But glyphosate is not only having alarming effects on human health. Soil scientists are beginning to realize the residues of glyphosate application are also having a possibly dramatic effect on soil health and nutrition, effects that can take years to restore.
Killing Soils too…….
A global threat? A slight nuisance? Whatever you decide to call it, the U.S. government gave Monsanto a patent for the main ingredient in toxic RoundUp, glyphosate, in 2010. It has been killing a wide range of pathogenic organisms (including the healthy bacteria we need to fight super bugs) even since it first came into use in 1974.
So why would the company seek a patent for an herbicide to be used as an antibiotic? All the more important to ask is, why is this toxic ingredient allowed to be used when it has been proven again and again to allow toxic bacteria like clostridium to flourish?
In 2013, the Chief Medical Officer for England, Dame ally Davies, announced that antibiotic-resistant diseases posed an 'apocalyptic' threat to the world. The CDC has even admitted (finally) that the age of antibiotics must come to an end as antibiotic-resistant bacteria begin to reign supreme over conventional treatments. Has Monsanto purposefully created a healthy bacteria killer?
Dr. Don Huber, a preeminent GMO expert, has said:
"Despite what the media and so-called "experts" proclaim, there are NO peer-reviewed scientific papers establishing the safety of GMO crops."
To be honest, not a single person has been able to establish that genetically engineered proteins (i.e. the foreign proteins produced by the genetically modified plant), or the chemicals we're consuming in ever-growing quantities as a result of the genetic engineering process are safe. In fact, the facts point quite clearly in the opposite direction.
Dr. Huber also explains that though glyphosate is an herbicide, it was first patented as a mineral chelator. It mobilizes nutrients so that your body cannot absorb them. Since glyphosate was also patented as an antibiotic, it does double damage. He says:
"When you take the good bacteria out, then the bad bacteria fill that void, because there aren't any voids in nature. We have all of these gut-related problems, whether it's autism, leaky gut, C. difficile diarrhea, gluten intolerance, or any of the other problems. All of these diseases are an expression of disruption of that intestinal microflora that keeps you healthy."
So glyphosate, which has been patented as both a mineral chelator and an antibiotic, both of which have tremendous implications, is being used willy nilly all over the world. All the while, the agencies which are supposed to protect public health continue to look the other way.
Nothing incites anger and fear in us quite like the thought that we are being slowly poisoned by toxins in our food and water. From endocrine disrupting chemicals in everyday household products to lead in drinking water, it seems that we are increasingly at risk of developing diseases by things that we often have no control over.
And glyphosate is no exception.
The reports of harmful effects of glyphosate are exploding — within the medical and scientific community as well as the general public. At a time when bee populations are already declining, a recent study reported that glyphosate perturbs gut bacteria of bees, making them susceptible to infection.1
But how exactly does this highly controversial chemical affect humans? Glyphosate toxicity is a topic I've written about numerous times. This time we'll talk specifically about the various ways glyphosate exposure could lead to devastating health consequences, one of which includes pretending to be glycine, an amino acid that is crucial for protein synthesis.
Samsel and Seneff published five commentaries on the potential pathways by which glyphosate could lead to pathology. In their research, Samsel and Seneff report that the main toxic effects of glyphosate are as follows:
Interference with function of cytochrome (CYP) P450 family of enzymes
Chelation of important minerals (iron, cobalt, manganese, etc.)
Interference with synthesis of methionine (which supplies sulfur), leading to shortages of critical neurotransmitters and folate
Disruption of sulfate synthesis and sulfate transport
Substitution of glycine for glyphosate during protein synthesis
Let's take a brief look at a few of these hypotheses. ……..
The truth of the old adage that "you are what you eat" is becoming increasingly clear, the more we learn about the microbiome—the colonies of microbes living in your gut, and indeed all over your body.
It is well established that your gut is your second brain providing more input to your brain than the brain provides to it. This is why your gut health is largely reflected in your gut bacteria, including your mental health and emotional well-being.
Your microbiome is essentially a historical accumulative composition of where you've been, who your parents are, who you spend intimate time with, what you eat, how you live, whether or not you're interacting with the earth (gardening, for example), and much more.
As noted by Pat Schloss (a microbiologist with The Human Microbiome Project) in the video above, your microbiome is much like a fingerprint—it's unique to you. Researcher Jeroen Raes has also suggested we might belong to one of a few "microflora types," which are similar to blood types.
Your gut microbiome activity influences your immune responses, nervous system functioning, and plays a role in the development of any number of diseases, including obesity, cancer, and multiple sclerosis, just to name a few that I'll address in this article.
The bacteria in your body outnumber your cells by 100 to 1, and different bacteria have different nutritional needs.
Your Body Is a Conglomerate of Bacterial Colonies
You're not only surrounded by bacteria in your environment; in a very real way, you are them. Your body is in fact a complex ecosystem made up of more than 100 trillion microbes that must be properly balanced and cared for if you are to be healthy. Pamela Weintraub skillfully describes the symbiotic relationship between humans and microorganisms in her June 2013 article in Experience Life magazine.17 This system of bacteria, fungi, viruses, and protozoa living on your skin and in your mouth, nose, throat, lungs, gut, and urogenital tract, is unique to you.
It varies from person to person based on factors such as diet, lifestyle, health history, geographic location, and even ancestry. Your microbiome is one of the most complex ecosystems on the planet as for every bacteria you have, there are 10 bacteriophages or viruses. So not only do you have 100 trillion bacteria, you have one quadrillion bacteriophages.
All of these organisms perform a multitude of functions in key biological systems, from supplying critical vitamins to fighting pathogens, modulating weight and metabolism, and much more, and when your microbiome falls out of balance, you can become ill. Your microbiome also helps control how your genes express themselves. So by optimizing your native flora, you are actually controlling your genes! All of this is great news, because while your microbiome may control your health, you can control which bacteria have the upper hand—health-promoting ones, or disease-causing ones—through your diet and lifestyle.
Your gastrointestinal tract is now considered one of the most complex microbial ecosystems on earth, and its influence is such that it's frequently referred to as your "second brain."
Nearly 100 trillion bacteria, fungi, viruses and other microorganisms compose your gut microbiome, and advancing science has made it quite clear that these organisms play a major role in your health, both mental and physical. Your body is in fact composed of more bacteria and other microorganisms than actual cells, and you have more bacterial DNA than human DNA.
(NaturalHealth365) An epidemic has been growing around the world, one that is hardly acknowledged in the United States. It's called chronic kidney disease of unknown etiology, or CKDu.
Countless people from South America to Asia have been affected – most of them losing their lives to this so-called "mysterious" disease.  In El Salvador alone, it is now a leading cause of death among men – more than other serious diseases like leukemia, AIDS, HIV and diabetes combined. So, what's really going on here?
Modern medicine fails to properly address chronic kidney disease?
Little has been done in the U.S. to combat the sudden surge of this deadly disease – which has only appeared for the past couple of decades.  In fact, many American doctors still question whether it's such a "big deal" or not.  But, for the many people who have lost their loved ones to CKDu – the disease is very real.
Farmers are paying the ultimate price for ignorance
Glyphosate is a substance that binds with metals in soils, such as arsenic. In the body, glyphosate is believed to protect metals from being metabolized by the liver, allowing them to become toxic within the kidneys.
While genetically modified seeds resist glyphosate, there is no protection for the farmers who become ill after exposure to this substance as it binds with heavy metals. Unfortunately, dialysis and organ transplants aren't as accessible in parts of the world most affected by CKDu, meaning most farmers with the CKDu caused by glyphosate toxicity will lose their lives to it.
Editor's note: If you're looking for the science that proves – beyond a shadow of a doubt – how toxic glyphosate really is, look up the work of Dr. Stephanie Seneff, senior research scientist at MIT.
Click here for all her research – it's truly amazing work.
Glyphosate Linked To Aggressive Breast Cancer, Alarming Generational Changes In Offspring, New Studies Find
Two new studies add to the body of science, showing glyphosate— a key ingredient in Bayer AG-Monsanto's herbicide Roundup—is harmful to living systems. The studies point to convincing evidence the chemical can alter DNA by actively working at the epigenetic level.
These alarming studies strongly suggest glyphosate is affecting human chemistry at the genetic level to turn on negative, disease-causing traits – even into future generations. These study results indicate glyphosate progressively weakens the genome of living systems exposed to the chemical. It increases susceptibility to health problems and increased infertility.
These discoveries come from a collaboration of scientists from Purdue University and the Institut National de la Santé et de la Recherche Médicale (INSERM)/Institut de Cancérologie de L'Ouest (ICO) in Nantes, France. Together, they found glyphosate can lead to mammary cancer when combined with another risk factor. Their work was published in Frontiers in Genetics and shows that glyphosate primes mammary cells for tumor growth by reprogramming epigenomes.
"This is a major result and nobody has ever shown this before," says Sophie Lelièvre, a professor of cancer pharmacology at Purdue's College of Veterinary Medicine. "Showing that glyphosate can trigger tumor growth, when combined with another frequently observed risk, is an important missing link when it comes to determining what causes cancer."
What other frequently observed risks propelled breast cancer growth?….
Glyphosate has been found in the majority of our environment and food: rain, tap water, air, streams and even in our cereal, honey, breast milk and cotton products. It is almost impossible to avoid. My children struggle with multiple allergies, regulation and ADD. We changed their diet from conventional to an organic diet and discovered that it wasn't the food that they were allergic to, it was the pesticide/herbicide ON the food.
75% of our foods are contaminated with the poison called Roundup. Even the wheat, barley, oats and beans and more than 65 other crops that are not genetically engineered get a spray of crop-killing poison to help them 'dry out' fast just 7 days before harvest. Applying glyphosate to non-GMO crops as a desiccant before harvest is probably one of the worst times to spray, because the glyphosate then absorbs into the food crop directly. In other words, glyphosate can't simply be "washed off," as it has become part of the food itself. This chemical is them ingested by those who consume the whole, unprocessed food, or via processed foods that contain glyphosate.
Dangers of Glyphosate
Did you know that if your child has multiple allergies, rashes or even just irritability and learning focus challenges, that could indicate they have leaky gut? That means small holes in your child's small intestines are leaking unprocessed food and potentially medications into their blood stream and causing havoc in the immune system.
Did you know that Glyphosate (Roundup) weed killer sprayed on GMOs and non organic food,  is allowed on 160 of our foods by the EPA at levels far above that which has shown to destroy gut bacteria? The gut bacteria is the stronghold of our immune system and is where Tryptophan is stored and made. Without Tryptophan our bodies cannot make Serotonin or Melatonin which regulate insulin, (diabetes) mental processing and  illness, feeling satiated (obesity), bi polar and even acts of violence.
Did you know that glyphosate can break down the blood brain barrier, allowing toxins into the brain such as chemical off gassing from fire retardent on pajamas, sofas and toxins in vaccines?
Did you know that glyphosate destroys the tight junctions of blood vessels, hampering the flow of nutrients to bones and organs, leading to osteoporosis, arthritis and more? [1]
I have seen FIRST HAND the impact that this toxin has had on my child's ability to regulate emotions, process thoughts. The struggle of my child to stay focused long enough to complete a simple sentence is overwhelming for a mother to watch. When exposed to glyphosate contaminated food, significant food reactions result affecting him for more than a week. Glyphosate's toxic affects are cumulative and overwhelming my child's natural ability to detox. 
Glyphosate Detox……
The past few years have revealed some disturbing news for the alcohol industry. In 2015, CBS news broke the announcement of a lawsuit against 31 brands of wines for high levels of inorganic arsenic. In 2016, beer testing in Germany also revealed residues of glyphosate in every single sample tested, even independent beers.
Moms Across America released test results of 12 California wines that were all found to be positive for glyphosate in 2016. We tested further and released new findings last week of glyphosate in all of the most popular brands of wines in the world, the majority of which are from the U.S. and in batch test results in American beer.
What do these events all have in common? Monsanto's Roundup
French molecular biologist Gilles-Éric Séralini released shocking findings in January of 2018 that of all the Roundup products they tested, over a dozen had high levels of arsenic—over five times the allowable limit along with dangerous levels of heavy metals.
Roundup is commonly sprayed in vineyards to keep the rows looking tidy and free of so-called weeds and on grain crops (used in beer) as a drying agent just before harvest. Glyphosate herbicides do not dry, wash or cook off and they have been proven to be neurotoxic, carcinogenic, endocrine disruptors and a cause of liver disease at very low levels……
……."I haven't used Roundup since 1977," said Phil Coturri, the Sonoma vineyard manager who was recognized by the Golden Gate Salmon Association earlier this year for his environmentally sound viticulture. "You can't constantly use a product and think that it's not going to have an effect. Glyphosate is something that's made to kill."
More than 1,000 plaintiffs, most of them farmers, have filed lawsuits against Monsanto, a leading manufacturer of glyphosate, for Roundup exposure leading to non-Hodgkin Lymphoma.
So how does glyphosate contaminate organic wines and beers? Drift, polluted irrigation water, soil and through a new phenomena: pesticide rains. Glyphosate and other toxic chemical particles remain in evaporated water or dust clouds which form into rain and can contaminate vineyards and grain crops thousands of miles away.
Natural News previously reported:
Data has been released that Monsanto and the EPA knew that glyphosate causes cancer in mammals as early as 1981. In fact, studies conducted as early as the late 1970s documented cancer caused by glyphosate in lab animals, including, dogs, mice and rats. Monsanto, with the EPA's cooperation and complacency, intentionally and knowingly hid this information from investors, consumers and the public. …
Uncovered EPA memos and internal correspondence from the early 1980s show a very different story. The same studies that Monsanto misrepresented to state that Roundup was a safe product, in fact state that glyphosate causes irreversible damage to the kidneys as well as hyperplasia in rats.
Hyperplasia is the increase of healthy cells in tissue or organs, and typically represents a precancerous condition…….
FDA finds glyphosate weedkiller residues in nearly all grocery foods, but has spent years hiding test results from the public
"People care about what contaminants are in their food. If there is scientific information about these residues in the food, the FDA should release it," she told The Guardian. "It helps people make informed decisions. Taxpayers paid for the government to do this work, they should get to see the information."
Linda Birnbaum, toxicologist and director of the U.S. National Institute of Environmental Health Sciences (NIEHS), warns that even low-level exposure to glyphosate can be very dangerous because we are exposed to many different sources of this chemical and its effects are cumulative.
Many natural health advocates have spoken out about the FDA's cover-up of its test findings and the fact that it took 40 years for them to start testing for glyphosate residue in the first place. (Related: Discover where glyphosate might be lurking at Glyphosate.news.)
These types of findings reinforce the need for us all to take responsibility for our own health and limit our exposure to glyphosate by purchasing or growing our own organic, pesticide-free fresh produce.
Would you feed your kids cancer-causing breakfast foods? Tests reveal many cereals contain the weed killer glyphosate
Environmental Working Group (EWG) just released its second round of 2018 test results measuring glyphosate, the active ingredient in Monsanto's Roundup weed killer, in popular oat-based cereals and foods.
The nonprofit organization released the new results after two companies, Quaker and General Mills, told the public it has no reason to worry about traces of glyphosate in its products.
Seems that's not the case.
Glyphosate in Cereal
In the latest batch of testing, all but two of the products tested contained levels of the potentially-carcinogenic weedkilling chemical above 160 parts per billion (ppb), the health benchmark set by EWG.
These findings come two months after EWG released its first series of tests measuring glyphosate in popular children's breakfast products. Still, General Mills and Quaker Oats Company immediately went on the defensive, claiming glyphosate levels found in its foods fell within regulatory limits set by the Environmental Protection Agency (EPA).
That may be true, but many public health experts believe the levels of allowable glyphosate in food are far too high and don't properly protect human health. Previously, Environmental Protection Agency (EPA) calculations suggest that 1- to 2-year-old children likely experience the highest exposure to glyphosate, the potential cancer-causing chemical used in Monsanto's Roundup. And according to the agency's risk assessment, the exposure level is 230 times greater than EWG's health benchmark of 160 ppb
(NaturalHealth365) We recently reported on the disturbing finding that 100% of breakfast cereal samples tested by the Environmental Working Group tested positive for a known carcinogen.  But, today, we'll focus on the health risk associated with drinking orange juice from the wrong source.
A second round of testing on the most popular orange juice brands reveals a cancer-causing chemical – the herbicide, glyphosate – as the culprit.  And one popular brand in particular (Florida Natural) contains the highest amount of this carcinogen compared to all other orange juice brands tested.
Understanding the negative effects of glyphosate on human health and the environment
According to the International Agency for Research on Cancer (a branch of the World Health Organization), glyphosate is a definite carcinogen in animals and a probable carcinogen in humans.
In addition to increasing the risk for Non-Hodgkin's lymphoma and other cancers, research has revealed other harmful effects of this carcinogenic weed killer. For instance, this chemical has been shown to:
Reduce soil quality, which ultimately decreases water retention, decreases the nutritional density of produce, and increases water usage
Contribute to the spread of chemical-resistant weeds
Build up in the fat cells and other tissues of conventionally-raised animals – leading to a dangerous "bioaccumulation" effect that impacts consumers higher up the food chain (us)
Promote oxidative stress and DNA damage – a known precursor to cancer
Promote the growth of invasive and toxic green algae
Bad for the environment, bad for crops, bad for you and your family. Staying away from products known to contain glyphosate and other herbicides is one of the best things we can do for our health.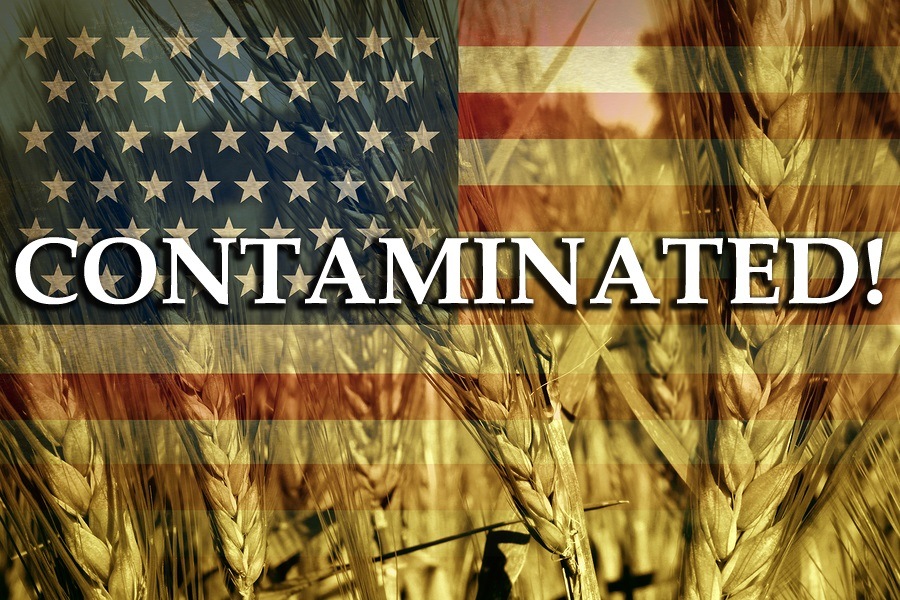 Think you can avoid glyphosate by buying organic? Think again. A new investigation by Tropical Traditions reveals that many products in the organic grain market in the U.S. contain glyphosate residue at levels almost the same as conventional grains.
Brian Shilhavy
Health Impact News Editor
With over 80% of the U.S. food supply now reportedly contaminated with the herbicide glyphosate, many people are turning to USDA certified organic products to avoid this toxic chemical. Current USDA NOP (National Organic Program) standards do not allow the use of the herbicide glyphosate on organic crops.
However, a new investigation by Tropical Traditions has revealed that the U.S. organic grain market is contaminated with glyphosate.
Tropical Traditions has sold organic grains for years. After reading new research about the issue of "crop desiccation" done by using glyphosate on wheat and other grains just prior to harvest, Tropical Traditions decided to first test some commercial wheat products with wheat grown in Montana, North Dakota, and Canada. They sent the commercial samples to a well-known and respected laboratory to test for glyphosate.
All tested positive for glyphosate residue. The range was from 0.07 mg/kg to 0.09 mg/kg. Keep in mind this is glyphosate found in non-GMO crops. For a GMO crop such as GMO soybeans, which are sprayed heavily with glyphosate, the range is typically between 3.3 and 5.7 mg/kg. (Source.)
Next, Tropical Traditions tested the USDA certified organic grains from suppliers they had been using, sourced mainly from western states such as Montana and Idaho. Sadly, the presence of glyphosate residue was found in organic wheat and other organic grains, including organic barley, oats, spelt, and einkorn. The range was from 0.03 to 0.06 mg/kg, just slightly lower than the conventional grains that were tested.
The only organic grains that tested clean were organic rye and organic millet. There was also one variety of organic wheat from small-scale farmers in Wisconsin that tested clean from glyphosate.
Why Should We be Concerned about Glyphosate?
Glyphosate is in 80% of our food supply in the U.S., and some scientists believe it may well be the most toxic chemical ever approved for commercial use. Glyphosate is now linked to kidney disease, antibiotic resistant bacteria, inflammatory bowel disease, obesity, depression, ADHD, autism, Alzheimer's disease, Parkinson's disease, ALS, multiple sclerosis, cancer, cachexia, infertility, and developmental malformations. It destroys the microbiome of humans and plants, which is the root cause of many modern diseases.
To learn more about the dangers of glyphosate, see: Read More
There has been a lot of news surrounding glyphosate in the last few years, and for good reason, too. After the World Health Organization classified glyphosate as a Group 2A carcinogen (aka. "probable human carcinogen"), and people started getting justice from the company whose products caused their cancer, Monsanto (now Bayer) has been under massive scrutiny.
With the massive out-cry for Monsanto to stop poisoning the planet, one would think that the last thing an organic growing operation would do is start adding these products to their food. At least, that would be the logical thing to assume. Unfortunately, this is not the case.
Glyphosate in "Organic" Hydroponic Food Production
The National Organic Program (NOP) recently announced that they are now allowing glyphosate in "organic" hydroponic food production. Using common sense, this would rightfully deem any product non-organic – but this doesn't seem to be the case for hydroponics.
Now, glyphosate (an incredibly toxic herbicide that is absolutely prohibited on organic farms) is being sprayed on fields prior to constructing hydroponic greenhouses awaiting organic certification. This is done to remove weeds from the greenhouses.
The issue was brought into light by the Real Organic Project, a family farmer-driven organization that is pushing for an add-on label to USDA certified organic to provide more transparency on these farming practices.
In his long e-mail addressing the situation, Dave Chapman, Executive Director of Real Organic Project, explains how faux-ganic produce is being sold to unsuspecting consumers.
"I have been hearing for months that glyphosate is being sprayed on fields about to be certified organic for hydroponic berry production. The way this use of herbicide is incorporated into "organic" certification is to laser level a field, compact it until it is like a parking lot, wait a little while until the weeds (that slows follow disturbed soil) have germinated. And then spray it with an herbicide. They are doing this in California and Florida. The weeds in Florida are fierce, and can grow straight through the black plastic. Weed control in organic blueberry production is the biggest challenge. Being able to spray glyphosate and sell it as organic is an enormous economic advantage."

Dave Chapman, Executive Director of Real Organic Project
While Chapman and his team posed their concerns to the NOP, they're not doing a great job of dealing with the "complaint." Since herbicide-sprayed "organic" produce is faster and cheaper to produce, the grocery store price tag is also cheaper. As a result, real organic farmers who put time and effort into organic weed control are becoming less preferable to customers. After all, who wouldn't buy a cheaper pack of unsuspecting faux-ganic tomatoes over real organic tomatoes? If the consumer doesn't spot the difference, then they're going to go for the cheaper option.
Marie Burcham, an attorney and director of domestic policy for Cornucopia chimed in after news of the inclusion of hydroponics into USDA organic certification. "It's vital that consumers understand what is happening here…If you see cheap 'organic' tomatoes or berries out of season in your area, those are almost certainly hydroponically grown! They are often so cheap, they are putting real organic farmers — farmers who care about the health of the land they farm — out of business." ……..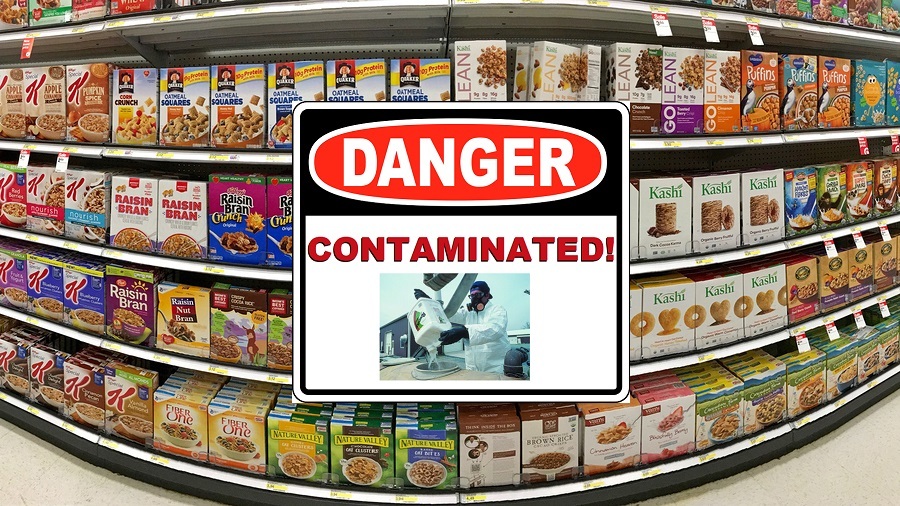 by Brian Shilhavy
Editor, Health Impact News
A new report released this week (June, 2019) by The Environmental Working Group (EWG) confirms previous reports that America's breakfast cereals, consumed primarily by children, are contaminated with the toxic herbicide, glyphosate.
Glyphosate is the active ingredient in Monsanto's RoundUp, and has been linked to cancer. Juries in recent court cases have awarded billions of dollars in damages to cancer victims who were exposed to glyphosate. See:….
This most recent report published by Olga Naidenko, Ph.D., senior science advisor, and Alexis Temkin, Ph.D., Toxicologist, at EWG, tested 21 oat-based cereal and snack products, and found all of them had high levels of the toxic glyphosate.
Major food companies like General Mills continue to sell popular children's breakfast cereals and other foods contaminated with troubling levels of glyphosate, the cancer-causing ingredient in the herbicide Roundup.

The weedkiller, produced by Bayer-Monsanto, was detected in all 21 oat-based cereal and snack products sampled in a new round of testing commissioned by the Environmental Working Group. (Full Report.)
The new tests confirm EWG's report from tests in July and October of last year (2018), showing that levels of glyphosate in the products tested were consistently above EWG's children's health benchmark. The two highest levels of glyphosate were found in Honey Nut Cheerios Medley Crunch, with 833 parts per billion, or ppb, and Cheerios, with 729 ppb. See:…..
Nestle SA is increasing checks on the coffee it buys, after recent tests showed beans from some countries had levels of the weedkiller glyphosate that are close to a regulatory limit.
The world's largest coffee roaster has informed suppliers of Indonesian and certain Brazilian beans of the new procedures, which go into effect starting Oct. 1, according to memos seen by Bloomberg. The company says the new measures "should be temporary" until producing countries correct the application of glyphosate.
The move comes at a time when many countries have either banned or are seeking to prohibit the use of glyphosate, used in the Roundup weedkiller. Bayer AG, which spent $63 billion buying the product's maker, Monsanto, is now facing billions of dollars worth of lawsuits claiming it causes cancer….
You're going to want to sit down for this one.  I've had some folks burst into tears in horror when I passed along this information before.
Common wheat harvest protocol in the United States is to drench the wheat fields with Roundup several days before the combine harvesters work through the fields as the practice allows for an earlier, easier and bigger harvest.
Pre-harvest application of the herbicide Roundup or other herbicides containing the deadly active ingredient glyphosate to wheat and barley as a desiccant was suggested as early as 1980.  It has since become routine over the past 15 years and is used as a drying agent 7-10 days before harvest within the conventional farming community.
According to Dr. Stephanie Seneff of MIT who has studied the issue in depth and who I recently saw present on the subject at a nutritional Conference in Indianapolis, desiccating non-organic wheat crops with glyphosate just before harvest came into vogue late in the 1990's with the result that most of the non-organic wheat in the United States is now contaminated with it.  Seneff explains that when you expose wheat to a toxic chemical like glyphosate, it actually releases more seeds resulting in a slightly greater yield:   "It 'goes to seed' as it dies. At its last gasp, it releases the seed" says Dr. Seneff.
Study blames Roundup herbicide for gluten intolerance and celiac disease epidemic
"Celiac disease, and, more generally, gluten intolerance, is a growing problem worldwide, but especially in North America and Europe, where an estimated 5% of the population now suffers from it," researchers wrote in a meta-analysis of nearly 300 studies.
"Here, we propose that glyphosate, the active ingredient in the herbicide, Roundup®, is the most important causal factor in this epidemic," they add.
The study, published in the journal Interdisciplinary Toxicology in 2013, was completely ignored by the media except for Mother Earth News and The Healthy Home Economist.
Now that glyphosate is getting the attention it deserves, being named as the culprit in a $280 million cancer lawsuit and labeled as a carcinogen by the World Health Organization and the state of California, it may be time to look at the chemical's role in a related disease:
The symptoms of so-called "gluten intolerance" and celiac disease in are shockingly similar to the symptoms in lab animals exposed to glyphosate, argue the study's authors Anthony Samsel, an independent scientist who's served as a consultant to the EPA on arsenic pollution and to the U.S. Coast Guard on chemical hazard response, and Stephanie Seneff, a senior research scientist at MIT.
Is there glyphosate in your diet?
No one knows how much of this pesticide is in the produce we eat
The herbicide glyphosate, known by the commercial name Roundup, is the most commonly used agricultural pesticide in the U.S. on farms. (Home gardeners use it too.) Yet we have no idea how much of it is in our food because the government doesn't regularly test produce for it.
Glyphosate use has increased tenfold in the past 20 years thanks to the rise in genetically modified corn and soy. Most of those crops are engineered to be resistant to glyphosate, which means Roundup will kill the weeds but not the crops. According to Charles Benbrook, Ph.D., of Washington State University, data shows that U.S. farmers used enough glyphosate in 2014 to apply the equivalent of almost three-quarters of a pound on every acre of farmland used to grow crops. "When a single pesticide is used that widely, people can't help but be exposed to it," Benbrook says.
Read our special report, "Pesticides in Produce," for more information and to download a chart that details the risk of pesticide exposure for dozens of fruits and vegetables.
And now there will be even more glyphosate sprayed thanks to the EPA's approval in late 2014 of the herbicide Enlist Duo, a combination of glyphosate and another chemical herbicide, called 2,4-D. That latest approval has drawn criticism. "I think if the EPA had followed the mandates of the Food Quality Protection Act, there's no way that they could have ever approved this very substantial increase in the use of glyphosate," says Philip Landrigan, M.D., of Mount Sinai Hospital. He says the EPA's decision that Enlist Duo is safe was based on old studies and that the agency was wrong to approve it without adhering to additional child-safety protections required by the act.
An inside look at GMOs and pesticides
Ever wonder why so many of today's seniors can't even enjoy their retirement and all their savings because they suffer from arthritis, brittle bones and dementia? Pesticides are all over today's conventional food, on the outside and on the inside. Scientists in laboratories are working hard for Monsanto, Bayer, DuPont, Dow, Cargill and Syngenta to infuse toxic genes in produce that kill insects, animals and humans. Yes, they know.
What kills the weeds, worms and beetles kills the bees, rabbits, lab mice and humans too. Cancer-causing weed killers that contain glyphosate, like Roundup, are sprayed on those "multi-grains" and that conventional "fiber" your MD said you need more of for your "diet."
Did your grandma, grandpa, mom or dad get diagnosed with liver damage, kidney disease or kidney failure?
Yes, humans are animals, just like the lab rats tested. We have mostly the same DNA and we're affected in most of the same ways by consuming toxins. There is no doubt about that. There are mountains of scientific evidence and research for proof.
Question: What foodstuff sticks in your gut, rots all the nutrients and then turns preventable disease into an early grave?…….
by Zen Honeycutt 
Moms Across America
Thanks to Moms Across America supporters; our sponsors and private citizens donating thousands of dollars in three days to pay for testing, glyphosate has been found in feeding tube liquid which is given to babies and children with cancer in hospitals, in the first ever testing of glyphosate herbicides in feeding tube liquid.
Microbe Inotech lab detected 6 out of 20 (30%) of Pediasure samples from the same batch tested postive at levels above 75ppb at 800-1110 X higher than has been shown to destroy gut bacteria in chickens (.1ppb). Only 50ppT ( trillion) was shown to cause liver, kidney and sex hormone changes in rats. These samples were sent by a Moms Across America supporter. This is the exact brand used in the pediatric rehabilitation hospital where she worked and was fed patients needing tube feeding in critical care.
Moms Across America finds it appalling that our health care providers have been led to believe this feeding tube liquid is safe. Our children and loved ones who [sic] are depending on our health institutions to support their immune system and recovery. Instead they are being fed a liquid which scientists and knowledgeable care givers now believe is doing the exact opposite.
The Pediasure Enteral Nutritional Drink tested is loaded with GM corn syrup, soy, and sugar, which have been shown to cause inflammation, and are sprayed with gyphosate during the growing season and at harvest as a drying agent. See EPA allowable levels glyphosate on 160 of our food crops here.
Glyphosate is scientifically accepted to function as a chelator; which draws out the vital nutrients of any living thing it touches.
It is a patented antibiotic; destroying gut bacteria, where 70% of the immune system lies, and the body's ability to create Tryptophan/Serotonin, and Melatonin, which regulate insulin/diabetes and protect from sleeplessness, depression, bipolar and violent behavior.
It is a proven endocrine disruptor; which impacts, deforms or halts the development of a fetus, leading to miscarriage, birth defects, infertilityand sterility.
It is also  a cell disintegrator; breaking down the blood brain barrier and allowing toxins into the brain, (correlating the rise of autism with the increased use of gyphosate as close as 99%.)
The rise of autism is 99% correlated with the increased use of glyphosate. New studies find glyphosate also feeds antibiotic resistant bacteria.
Read the Full Article here.
Moms Across America finally received a response back from the FDA via the CDC regarding our Freedom of Information Act (FOI) for any and all information they have exchanged or filed regarding glyphosate in vaccines. (See original report here)
First, we informed the FDA we found glyphosate in vaccines and asked the FDA and CDC to test for glyphosate in vaccines. They did not address that request in their response. Then I filed an FOI to request any and all information they had on glyphosate in vaccines. I wanted to know if they tested ( and just didn't tell us), or who decided not to test, and what information they had on glyphosate in vaccines.
Their response is infuriating, unjust and some might argue, potentially criminal. Consider doing the following to protect you and your family:
Over 50% of the pages from the FDA were redacted or blank!……..
Previous research studies have shown that the rising prevalence of autism in the United States is highly correlated with the increased usage of glyphosate-based weed killers. A recently published case report has confirmed these results. It provided clear evidence of the link between the use of glyphosate and the dramatic rise of ASDs that are affecting the development of our children's brains.
For the report, William Shaw, Ph.D., and founder of The Great Plains Laboratory, Inc. in Lenexa, analyzed the urine samples of a set of triplets – two autistic boys and a girl with seizure issues and learning disorders – and their parents for glyphosate levels…….
By Zen Honeycutt
Glyphosate, the active ingredient in Monsanto's flagship herbicide Roundup and hundreds of other herbicides, has been found in vaccines.
Moms Across America received preliminary screening results from Microbe Inotech Laboratories Inc. of St. Louis, Missouri, which showed:
MMR II (Merk) vaccine had 2.671 parts per billion (ppb) of glyphosate
DTap Adacel (Sanofi Pasteur) vaccine had 0.123 ppb of glyphosate
Influenza Fluvirin (Novaris) 0.331 ppb of glyphosate
HepB Energix-B (Glaxo Smith Kline) 0.325 ppb of glyphosate
Pneumonoccal Vax Polyvalent Pneumovax 23 (Merk) had 0.107 ppb of glyphosate
The MMR II vaccine had levels up to 25 times higher than the other vaccines. Following our test, additional independent tests have confirmed these findings at or above the same levels. The tests were conducted using the ELISA method.
Vaccines contain many ingredients that could be genetically modified (GMO). More than 80 percent of GMOs are genetically engineered to withstand glyphosate-based herbicides and the U.S. Environmental Protection Agency (EPA) allows glyphosate on 160 non-organic food and feed crops. These facts made us wonder if glyphosate could be contaminating not only our water, urine, breast milk, food, soil, beer and wine, but also vaccines.
Glyphosate, the controversial main ingredient in Monsanto's Roundup and other herbicides, is being connected to Lake Erie's troubling algae blooms, which has fouled drinking water and suffocated and killed marine life in recent years.
Phosphorus—attributed to farm runoff carried by the Maumee River—has long been identified as a leading culprit feeding the excessive blooms in the western Lake Erie basin. Now, according to a new study from chemistry professor Christopher Spiese, a significant correlation has been established between the increased use of glyphosate to the percentage of dissolved reactive phosphorus (DRP) in the runoff.
As No-Till Farmer observed from the study, DRP loads in Lake Erie increased in the mid-1990s at the same time that farmers began the widespread cultivation of crops genetically engineered to withstand multiple applications of Roundup.
"For every acre of Roundup Ready soybeans and corn that you plant, it works out to be about one-third of a pound of P [phosphorus] coming down the Maumee," Spiese told the agricultural publication
The herbicide Roundup may be contributing to the growth of harmful algal blooms in Lake Erie, according to Ohio Sea Grant researchers. Drs. R. Michael McKay and George Bullerjahn of Bowling Green State University are studying the impact of glyphosate, a phosphonate and the main ingredient in the commonly used herbicide, on the strains of blue-green algae found in Lake Erie.
Phosphorus has long been known to act as fuel to blue-green algae, and efforts in the 1970s reduced harmful algal blooms and nuisance algae by limited phosphorus loading in the Lake Erie watershed. However, the last 15 years have seen an increase in the growth of the toxic blooms, contributing to an ever bigger Dead Zone in the lake's Central Basin and massive fish kills each summer.
Toxicology Expert Speaks Out About Roundup and GMOs
Dr. Don Huber is likely the leading GMO expert in the world. He is an award-winning, internationally recognized scientist, and professor of plant pathology at Purdue University for the past 35 years.
He's really one of the best scientists we have in the GMO movement for documenting the dangers of genetically engineered foods.
Three Things You Need to Know About GMOs
There's a lot of confusion about the basic validity of concerns about genetically engineered (GE) foods. Many have been deceived into thinking that there's really no difference between GE foods and conventional fare, and all these worries are just paranoid fear-mongering.
According to Dr. Huber, the following three facts are some of the most important that everyone needs to understand about GMOs:
1. Despite what the media and so-called "experts" proclaim, there are NO peer-reviewed scientific papers establishing the safety of GMO crops.
According to Dr. Huber, so far, no one has been able to establish that there's a safety factor to either the genetically engineered proteins (i.e. the foreign proteins produced by the genetically modified plant) or the chemicals we're consuming in ever larger quantities as a result of the genetic engineering process.
There are, however, both clinical and peer-reviewed scientific papers showing the hazards of GMO crops, including harmful secondary effects.
"A group of us met with top USDA administrators. They assured us that they based all their decisions on peer-reviewed science. When we asked them if they would share any of that, they were unable to produce any," he says.
2. Epidemiological patterns show there's an identical rise in over 30 human diseases correlated with our increased usage of glyphosate and the increased prevalence of genetically engineered proteins in our food.
3. Genetically engineered foods, as well as conventional crops that are heavily sprayed with glyphosate (the active ingredient in Monsanto's herbicide Roundup), have lower nutrient density than organic foods. They also contain high amounts of pesticides with documented harmful health effects, along with novel, highly allergenic, proteins.
Little-Known Facts About Glyphosate
You can't really discuss genetic engineering without also addressing the chemicals these plants are engineered to tolerate. About 85 percent of all genetically engineered plants are herbicide-tolerant—designed to tolerate very high levels of herbicides, glyphosate in particular. These are the so-called Roundup Ready crops.
It's important to realize that glyphosate is not "just" an herbicide. As explained by Dr. Huber, it was first patented as a mineral chelator. It immobilizes nutrients, so they're not physiologically available for your body.
"You may have the mineral [in the plant], but if it's chelated with glyphosate, it's not going to be available physiologically for you to use, so you're just eating a piece of gravel," Dr. Huber says.
Naturally, health effects are bound to occur if you're consistently eating foods from which your body cannot extract critical nutrients and minerals. Mineral deficiencies can lead to developmental and mental health issues, for example. Glyphosate is also patented as an antibiotic—and a very effective one at that— against a large number of beneficial organisms. Unfortunately, like all antibiotics, it also kills vitally important beneficial soil bacteria and human gut bacteria.
The EPA recently doubled the amount of glyphosate allowed in food. Soybean oil is now allowed to contain a whopping 400 times the limit at which it can impact your health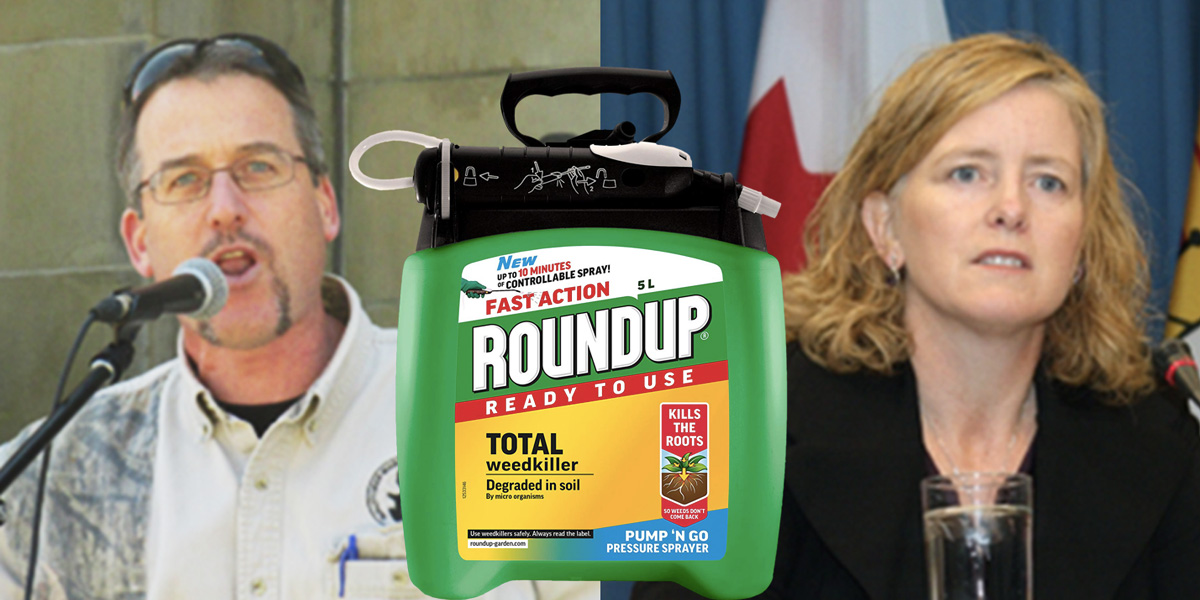 Dissent crushed to protect New Brunswick's glyphosate addiction
Wildlife biologist Rod Cumberland has been fired from the Maritime College of Forest Technology (MCFT) in New Brunswick, Canada.
A June 20 letter from the college lists several reasons for his dismissal. But the college's former director, Gerald Redmond, says the real reason is Cumberland's critical stance towards the use of glyphosate in forestry. "There is no other explanation," Redmond told the National Observer.
Glyphosate is killing New Brunswick's deer
Cumberland, the former chief deer biologist for the province (pictured left in the image above), argues that the heavy use of glyphosate in forestry has had a devastating impact on New Brunswick's white-tailed deer population, which plummeted by over 70% from 286,000 in the mid-1980s to just 70,000 by 2014.
Redmond, who is also a wildlife biologist, says that when he was the college's director he experienced "attempts to sanction Rod for speaking up on this important wildlife issue".
According to Redmond, "The other issues cited in [Cumberland's] letter of termination that focus on his classroom management and teaching approaches are simply 'window dressing' to cover up the real reasons for his dismissal."
Redmond says Cumberland should definitely be reinstated. "Rod Cumberland is one of the finest, most experienced and professional wildlife biologists that I have had the pleasure to know and work with. On top of that, he is an incredible educator and communicator."
Second sacking
Within 24 hours of his publicly linking Cumberland's dismissal to glyphosate, Redmond too was fired by the college he at one time directed and where he was still teaching.
The Canadian Association of University Teachers, which represents 77,000 academics across Canada, has condemned the dismissal of both teachers, saying it appeared to show the college had "violated their academic freedom and their basic right to due process".
Chief medical officer sacked while investigating glyphosate
But Cumberland and Redmond are not the only experts in New Brunswick whose dismissals have been linked to concerns about glyphosate………
Study shows glyphosate may be killing honeybees
Glyphosate, the world's most widely used weed killer, has caused concerns over its potential risk to human health and the environment for decades. Now, new research shows that glyphosate may be indirectly killing bees.
by Caius Rommens
I have now summarized the new conclusions of this past work (without disclosing company secrets—I am bound by confidentiality agreements) in a book, entitled 'Pandora's Potatoes.' This book, which is now available on Amazon, explains why I renounce my work at Simplot and why the GMO varieties should be withdrawn from the market. It is a warning and a call for action: a hope that others will step forward with additional evidence, so that the public, with its limited financial means, has a chance to counter the narrow-mindedness of the biotech industry.
My book describes the many hidden issues of GMO potatoes, but GMO potatoes are not the exception. They are the rule. I could just as well have written (and may write) about the experimental GMO varieties we developed at Monsanto, which contains an antifungal protein that I now recognize as allergenic, about the disease resistance that caused insect sensitivity, or about anything else in genetic engineering.
On May 3rd 2018 the columnist Michael Gerson wrote in the Washington Post: "Anti-GMO is anti-science." His statement was echoed by Mitch Daniels, his colleague, who added, "[It] isn't just anti-science. It's immoral." But these two columnists are not scientists. They don't understand the level of bias and self-deception that exists among genetic engineers. Indeed, anyone who is pro-science should understand that science is meant to study nature, not to modify it—and certainly not to predict, in the face of strong evidence, the absence of unintended effects.
The real anti-science movement is not on the streets. It is, as I discovered, in the laboratories of corporate America.
It's truly unbelievable that, in this day and age, education has turned into brainwashing. Science is corrupted, altered, changed, ignored, and swept under the rug just because it threatens the interests of a few powerful people and the corporations they hide behind.
It is simply no longer possible to believe much of the clinical research that is published, or to rely on the judgment of trusted physicians or authoritative medical guidelines. I take no pleasure in this conclusion, which I reached slowly and reluctantly over my two decades as an editor of The New England Journal of Medicine."   Dr. Marcia Angell, a physician and longtime Editor-in-Chief of the New England Medical Journal (NEMJ) (source)
Glyphosate, the active ingredient in Monsanto's pesticide Round Up,  is a perfect example, as science has been showing for decades how incredibly harmful it is for human health and the environment, yet it's approved as 'safe' for use in the western world. It's no mystery why glyphosate is illegal in the majority of countries around the world. The same goes for genetically modified foods, which is what Round Up was designed to be used on. Years ago, a lawsuit forced the FDA to divulge its files on genetically engineered foods.
"As part of the process, they portrayed the various concerns as merely the ignorant opinions of misinformed individuals – and derided them as not only unscientific, but anti-science. They then set to work to convince the public and government officials, through the dissemination of false information, that there was an overwhelming expert consensus, based on solid evidence, that GMOs were safe." – Jane Goodall
Use of glyphosate will be banned in Germany from the end of 2023, after a phased effort to reduce its application by farmers.
The ban, agreed by the Cabinet on Wednesday, is part of an insect conservation program from Environment Minister Svenja Schulze.
It includes a "systematic reduction strategy," which would initially prohibit use of the chemical in domestic gardens and allotments, and on the edge of farmers' fields.
Germany's move comes after lawmakers in Austria passed a bill banning all use of the weedkiller, making the country the first to do so. Some 20 French mayors banned it from their municipalities last month — in defiance of their national government.
Glyphosate — also the subject of legal claims over an alleged link with cancer — was developed by Monsanto under the brand name Roundup.
The chemical is now out of patent and is marketed worldwide by dozens of other chemical groups. They include Dow Agrosciences and Germany's BASF.
Worries about the chemical's safety came to light when a World Health Organization agency report concluded in 2015 that it probably causes cancer.
Daniel J. Rowe, Matt Gilmour, CTV News Montreal
Published Thursday, September 5, 2019
The City of Montreal announced Thursday morning that it would ban the use of the agricultural herbicide glyphosate on the island.
"Our administration is taking a new and strong environmental action to protect the health of Montrealers," Montreal Mayor Valerie Plante wrote on Twitter after a news conference with councillor Laurence Lavigne Lalonde Thursday morning.
Lalonde spoke about some of the reasons for banning the product.
Related Stories
• Sask. farmer leads class-action lawsuit alleging Roundup caused his cancer
• Quebec woman seeks to file class action against makers of herbicide Roundup
Photos
Containers of Roundup, left, a weed killer is seen on a shelf with other products for sale at a hardware store in Los Angeles on Thursday, Jan. 26, 2017. A battle over the main ingredient in Roundup, the popular weed killer sprayed by farmers and home gardeners worldwide, is coming to a head in California, where officials want to be the first to label the chemical, glyphosate, with warnings that it could cause cancer. Chemical giant Monsanto has sued the nation's leading agricultural producer, saying state officials illegally based their decision for warning labels on an international health organization. (AP Photo/Reed Saxon)
"There's a lot of people that are working in farms, that are working with those products, (and) we know that there are different effects on their health and we are really concerned about the biodiversity. We are concerned about the health of our soil," she said.
Glyphosate is used primarily in the retail product Roundup, and Plante's announcement follows a ban announced in Germany Wednesday and ones in Austria and Vietnam that are already in effect.
Glyphosate: 'The most toxic product ever invented by man' – YouTube
Toxic weedkillers have been banned from gardens across France this month. Households are no longer allowed to stock, never mind use, the chemical compounds, which are deemed a danger to the environment. Industrial use, however, continues. The world's most popular weedkiller, glyphosate, is still being spread in huge quantities. Some people say it is a safe solution to supplying enough food to feed the world. Others say it is clearly a poison which should be prevented.
The secret tactics Monsanto used to protect Roundup, its star product | Four Corners – YouTube
Poisoned Fields – Glyphosate, the underrated risk? (HD 1080p) – YouTube
Dr Thierry Vrain: Glyphosate, Food, and your Gut (Food) – YouTube
Dr Zach Bush explains the health impacts of consuming Glyphosate
Zach Bush, MD "Eat Dirt! And Thrive" Full Lecture YouTube
Glyphosate + aluminum + mercury + glutamate = autism – Seneff – YouTube
I have been searching for environmental causes of autism for over a decdade, and I now believe that I have identified the key toxic environmental factors that are causal in the epidemic. The most significant factor is glyphosate, the active ingredient in the herbicide Roundup. What makes glyphosate so dangerous is that it is pervasive, cumulatively insidiously toxic, and widely believed to be nearly harmless to humans. Glyphosate collaborates with toxic components in vaccines to destroy neurons. These include, primarily, aluminum, mercury and glutamate. While glyphosate contamination in the food sets up a leaky gut barrier and leaky brain barrier, glyphosate contamination in many vaccines is ominous and likely catastrophic. In this talk, I will present the hard-core scientific evidence for the complex metabolic cascade these toxic metals and chemicals induce, beginning with disruption of gut microbes, bile acids, and digestive enzymes, and ending with a devastating neurological disability.
Stephanie Seneff, BS, MS, EE, PhD
Glyphosate's Synergistic Toxicity in Combination with Other Factors as a Cause of Chronic Kidney Disease of Unknown Origin
Download the PDF